Siding Installation Services for Residents of Missoula, MT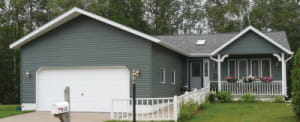 If you are looking for a dependable and competent siding installation company to put new siding on your home in Missoula, Montana, turn to the pros at AAmerican Seamless Siding. Since 1978, we have proudly provided homeowners throughout the area with some of the leading siding products on the market. Manufactured by ABC Seamless, the world's largest seamless siding company, our siding solutions are known for the superior durability, longevity, and aesthetic appeal they provide for a home's exterior.
Our incredible siding is engineered from hot-dipped, heavy-gauge, G-90 galvanized steel, making it one of the strongest types of siding available. In fact, ABC siding can withstand nearly anything Mother Nature throws its way without so much as a dent. Aside from superior durability, turning to AAmerican Seamless Siding for siding installation in Missoula, MT, comes with a number of other benefits, including:
A team of extensively trained siding installers that is dedicated to ensuring your utmost satisfaction with your new products
A siding system that is custom-fit to the exact measurements of your home and fabricated right on site to ensure that every last inch is accounted for
Siding that is highly resistant to fading, chipping, and peeling, and requires minimal maintenance to keep it in tip-top shape
Customizable options, including more than 30 beautiful colors to choose from
Plus, when you rely on us for your siding installation needs, you can feel confident in your investment. That's because we back all of our siding with an industry-best lifetime transferable warranty.
For more information on the siding installation services we offer for homeowners in Missoula, MT, and nearby areas, contact AAmerican Seamless Siding today.