Durable Seamless Steel Gutters Installed for Homes in Butte, MT & Surrounding Areas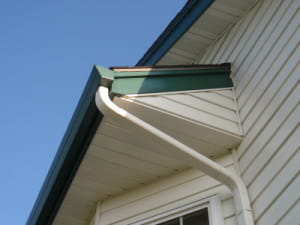 Seamless steel gutters can provide unmatched protection for your Butte, Montana, home when it comes to water damage and leaks. If you are ready to replace your sagging and unreliable gutter system, turn to the experts at AAmerican Seamless Siding. Manufactured by ABC Seamless, a pioneer in the seamless steel industry, our gutter systems are designed to effectively and efficiently keep the water moving through the gutters and away from your home, preventing leaks and clogs.
When you turn to AAmerican Seamless Siding for the installation of seamless gutters on your Butte, MT, home, we will provide you with a system that is:
Manufactured from heavy-gauge, hot-dipped, G-90 galvanized steel, making our gutters some of the most durable products on the market
Screw-secured to your home for maximum integrity and a sophisticated, streamlined appearance
Engineered to carry 33 percent more water away from your home than the traditional k-style gutter system
Available in a number of designer colors, including sandstone and ivory
Plus, we will manufacture your seamless gutters right on site, so you can rest assured that your system will fit the dimensions of your home down to the last fraction of an inch. And, because we are so confident in the longevity and durability of our steel gutter systems, we back our products with one of the best gutter warranties in the industry.
To learn more about the benefits of having seamless gutters installed on your home in Butte, MT, contact AAmerican Seamless Siding today.