Superior Roof Installation Services for Homes in Missoula, MT & Surrounding Areas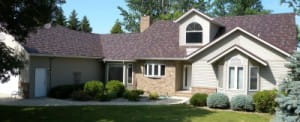 If you are tired of repairing your old, leaky roof, consider a seamless steel roof installation performed by one of the leading home improvement companies in the Missoula, Montana, area – AAmerican Seamless Siding. Since 1978, we have provided homeowners all over the region with superior roofing solutions that have solved virtually all of their roof-related problems. We are proud to offer a number of top-quality roofing systems manufactured by industry-leader ABC Seamless. These systems, combined with our exceptional installation services, are just two of the many reasons we have maintained a consistent A+ rating with the Better Business Bureau.
When you rely on AAmerican Seamless for your Missoula, MT, home's seamless steel roof installation, some of the benefits you will enjoy include:
A custom fit – Your new roofing system will be custom cut to fit your roof's exact dimensions, ensuring that all seams are eliminated and that every last square inch is accounted for.
Increased energy efficiency – All of our roofs are finished with "cool roof" technology, which will reflect the sun's radiant heat away from your home and promote a more stable indoor temperature all year long. As a result, your HVAC system won't have to work as hard and your monthly energy bills could potentially go down.
Incredible durability – When we say that your roof installation will last a lifetime, we mean it. Our roofing systems are manufactured out of 28-gauge, hot-dipped, G-90 galvanized steel, one of the strongest and most durable products on the market, and will act as a virtual shield of armor for your home against all of the outside elements, including hail, wind-blown debris, and torrential downpours.
Plus, every roof installation we complete comes backed with an industry-leading lifetime, non-prorated, transferable warranty, so you can trust that your investment will be protected for years to come.
For more information on the roof installation services we provide for homes in Missoula, MT, and nearby areas, contact AAmerican Seamless today.