Durable House Siding Installed by Experts on Homes in Missoula, MT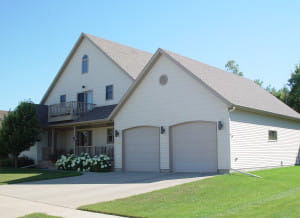 House siding is one of the most important external elements of your home in Missoula, Montana. Not only does it contribute to the overall aesthetics of the outside of your home, but it also provides your house with valuable protection against damage from the elements and thermal transfer that can raise your energy bills. That's why when it's time to upgrade the siding on your home, you should turn to the professionals at AAmerican Seamless Siding. Our seamless steel house siding will boost the curb appeal of your home and protect it for decades to come. Plus, we have been installing home exterior products since 1978, so our experience in the area is virtually unrivaled, and we will put our expertise to work for you.
What makes our house siding the obvious choice for your home in Missoula are its numerous benefits, including:
Seamless construction – We will manufacture the siding panels on-site to the exact specifications of your home, so that it is completely free of seams. This gives a more attractive look, and also provides better protection and insulation.
Durability – Our siding is made of 28 gauge G90 galvanized steel that is able to with stand gale force winds and hail storms while still looking great.
Customizable – You can choose from more than 30 different siding colors, all of which are backed by fade guarantees. We can also install vertical siding and steel log siding, so you can choose a look that reflects your personal taste.
What's more, our house siding is backed by a lifetime warranty, so you can feel good that your investment is well protected.
For more information on the house siding we have available for installation on your Missoula, MT, home, contact ABC Seamless Siding & Windows today. Be sure to ask about our financing options for qualified homeowners.