Seamless Steel Siding Installation for Homeowners in Missoula, MT & Surrounding Areas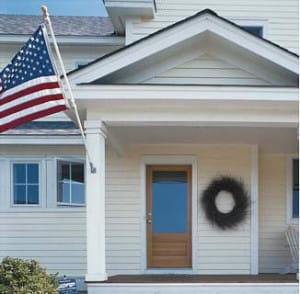 When it comes to reliable and long-lasting steel siding for your home in Missoula, Montana, or another surrounding area, look no further than AAmerican Seamless Siding. As a proud franchisee of the world's largest seamless siding company – ABC Seamless – our siding products are some of the most elite exterior solutions on the market. Our completely seamless steel siding protects your home against a number of harmful outside elements, including wind, water intrusion, and bug infestation. Plus, made from heavy-gauge, hot-dipped, G-90 galvanized steel, our siding is far more durable than other siding products such as wood, vinyl, or cement fiber board.
When you turn to AAmerican Seamless Siding for your Missoula, MT, home's steel siding solutions, you will enjoy a number of benefits over other siding materials, including:
The perfect fit – We manufacture all of our siding right on site to ensure it fits the exact dimensions of your home, down to the very last fraction of an inch, for a completely seamless installation.
Customized appearance – You can select from over 30 different colors and a number of style options to ensure that your new siding perfectly complements your home's current appearance.
Lasting beauty – Your ABC Seamless siding will never warp, crack, rot, fade, or peel no matter what Mother Nature has in store.
Low maintenance requirements – The occasional hose-down is all that's necessary to keep your new siding in tip-top condition for years to come.
In addition to these exceptional benefits, we also back our steel siding installations with an industry-leading lifetime warranty to ensure your complete satisfaction for years to come.
To learn more about the steel siding systems we can install for homes in Missoula, MT, and other nearby areas, contact AAmerican Seamless Siding today.