Steel Roofing That Stands the Test of Time Installed on Homes in the Missoula, MT, Area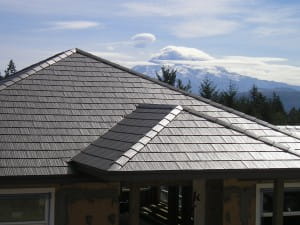 When you choose steel roofing from AAmerican Seamless Siding for your home in the Missoula, Montana, area, it will be the last roof that your home will ever need. Instead of investing in a roof that you know will fail after a certain number of years, you can do it once, do it for life, do it with steel. Plus, AAmerican Seamless Siding has been in operation since 1978, and is well versed on installing roofing of all types on virtually any sized home, so you can also be sure when you partner with us that you are working with skilled roofers who will get the job done right the first time.
The ABC steel roofing shingles that we install will provide numerous benefits for your home in Missoula, including:
Protection from the weather and disaster, since our steel shingles have exceptional fire, wind, and impact ratings
Energy efficiency, thanks to our "cool paint" technology that prevents radiant energy waste
Curb appeal, because our roofing is available in numerous colors and styles, so you are sure to find options that complement your home and suit your personal taste
What's more, we also offer durable standing seam roofing, so we provide multiple steel roofing options for you to have installed on your home.
Learn more about the steel roofing options available for your home in the Missoula, MT, area by contacting AAmerican Seamless Siding today. We are happy to answer your questions and tell you about our financing options for those who qualify.