Elite Siding Replacement Solutions Available for Homes In & Around Butte, MT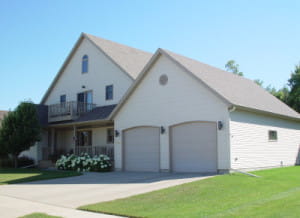 When it comes to durable and long-lasting siding replacement solutions, Butte, Montana, homeowners know to turn to AAmerican Seamless Siding. Since 1978, we have provided homes just like yours throughout the area with superior siding products that are built to stand the test of time. Plus, as a family-owned and -operated company, we make your complete satisfaction our main priority. Our expert siding installers will work with you to design a siding system that is tailored to your home's specific needs and will ensure your siding is installed with unmatched precision and care.
When you turn to AAmerican Seamless Siding for your Butte, MT, home's replacement siding, we will provide you with a system manufactured by one of the most trusted names in the industry: ABC Seamless. Our superior siding products are:
Incredibly durable – The siding we install is engineered from heavy-gauge, hot-dipped, G-90 galvanized steel, making it one of the most durable products on the market that will act as a shield of armor for your home against the outside elements.
Completely seamless – We will manufacture your siding right onsite to ensure it fits the exact measurements of your home. As a result, your replacement siding will be free of ugly seams and splices that often plague other siding products.
Long-lasting – We coat our siding with a Kynar 500® finish, which will protect it from warping, chipping, fading, or peeling no matter how much sun your home is exposed to.
Plus, when you turn to us for your home's replacement siding, you will be able to choose from a variety of styles and colors to best suit your particular aesthetic preferences. Some of these include log, board and batten, and horizontal siding, as well as more than 30 beautiful colors to select from.
For more information about the replacement siding we can install for homes in Butte, MT, and surrounding areas, contact AAmerican Seamless Siding today.