Siding Options for Homeowners in Kalispell, MT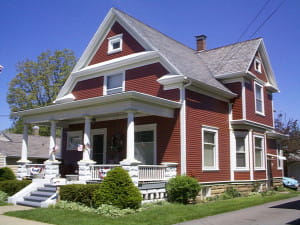 Are you looking at siding options for your home in Kalispell, Montana? Then turn to the experts at AAmerican Seamless Siding. We are a family-owned company that has been serving area homeowners since 1978. Since becoming a franchise of ABC Seamless, we now also offer the finest home exterior products available on the market. So let us put our experience and top-quality siding products to work for you.
All of the siding options we offer to homeowners in Kalispell are completely free of seams. Seams in your siding aren't just ugly, they are also weak spots where dirt, moisture, and insects can infiltrate and even penetrate into the foundation of your home. What's more, our siding is steel offers a wide array of benefits over other siding materials, including:
Durability – Our siding is made from 28 gauge G90 galvanized steel that is impervious to denting and warping, and will last for decades
Low maintenance – Steel does not buckle due to temperature changes, rot from moisture, and does not develop mildew, so your siding will require virtually no upkeep
Curb appeal – We offer over 30 different color options for our siding that are backed by fade guarantees, as well as steel log siding options; what's more we can install vertical siding for a more rustic look
To learn more about the siding options we have available for homes in the Kalispell, MT, area, contact AAmerican Seamless Siding today. Be sure to ask about our financing options for qualified homeowners.