Expert Siding Installation on Homes in the Kalispell, MT, Area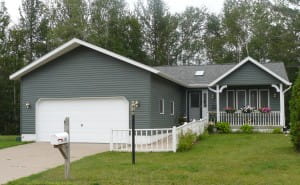 For a siding installation that you can count on to last the entire time you own your home in Kalispell, Montana, or a nearby area, put your trust in the experts at AAmerican Seamless Siding. Since our company's founding in 1978, we have successfully installed siding on homes of all sizes to total customer satisfaction. What's more, we install ABC Seamless steel siding, some of the most durable and attractive siding available today.
At AAmerican Seamless Siding, we never use subcontractors. Instead, we employ our own factory-trained and -certified installers, so you can be sure that the siding installation performed by our technicians will be done correctly the first time. The panels will be manufactured on-site to the exact dimensions of your Kalispell home, ensuring that the siding will be completely free of seams. Seamless siding isn't just more attractive, it also provides superior protection against dirt, moisture, and insects from infiltrating into the foundation of your home. Plus, the steel we use for our siding installation jobs is:
Incredibly durable, because it is G90 galvanized 28 gauge steel
Low maintenance, as it will never require sanding, staining, or repainting, and it also highly resistant to fading, warping, and cracking
Non-combustible, providing a high level of protection against fire
Customizable and available in over 30 elegant colors, as well multiple steel log siding options
If you would like more information on having us complete a siding installation on your home in the Kalispell, MT, area, contact AAmerican Seamless Siding today. Be sure to also ask about our financing options for qualified homeowners.