The Premier Siding Contractor Serving Butte, MT & Surrounding Areas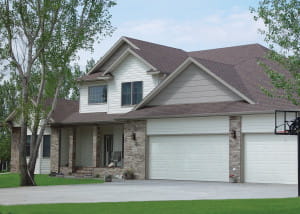 If you are looking for a reputable contractor to replace the siding on your Butte, Montana, home, turn to the professionals at AAmerican Seamless Siding. Since 1978, we have provided countless homeowners with superior siding solutions that have transformed their homes and provided the lasting protection needed when combating the harsh Montana weather. Our highly skilled and experienced installation team will work diligently to ensure your new siding is installed with precision and efficiency, and we will never consider ourselves done with your home until you are completed satisfied with our work.
As your Butte, MT, siding contractor, AAmerican Seamless Siding will provide your home with one of the most durable siding systems on the market. Manufactured by industry-leader ABC Seamless, our siding is manufactured from heavy-gauge, hot-dipped, G-90 galvanized steel and will act as a shield of armor for your home against the outside elements. In addition to being impressively strong, our siding is also:
Installed over a sturdy layer of insulating foam-backed boards that works to reduce the thermal transfer into and out of your home
Manufactured on site by our siding contractor team to ensure your siding fits your home perfectly and is free of any seams
Low maintenance, requiring only the occasional rinse-down with your garden hose
Resistant to cracking, fading, and warping, so it will remain in like-new condition long after the installation process is complete
Plus, AAmerican Seamless Siding is a contractor that truly stands behind all of the work it does. We will back your new siding with a lifetime, non-prorated, transferable warranty, so you can rest easy knowing that your investment will be protected for years to come.
To learn more about what makes us a leading siding contractor in the Butte, MT, area, contact AAmerican Seamless Siding today.