The Siding Company You Can Rely on in Missoula, MT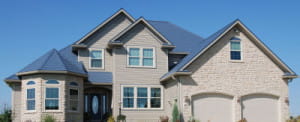 If you are searching for a reliable and top-quality siding company in the Missoula, Montana, area, look no further than AAmerican Seamless Siding. Since 1978, we have provided homeowners all throughout the area with superior seamless steel siding solutions that are built to last a lifetime. Manufactured by ABC Seamless, a leading name in the home improvement industry, our siding is one of the most durable options on the market.
As your Missoula, MT, siding company, we manufacture your steel siding panels on-site to ensure an exact fit right down to the last fraction of an inch. As a result, your home's siding will be free from splices, cracks, and overlaps, protecting your house from moisture and termite infestation. In addition to offering siding that is completely seamless, as your siding company we guarantee that your new cladding is:
Durable ­– Engineered from heavy-gauge, hot-dipped, G-90 galvanized steel, our seamless siding is one of the strongest products on the market and is incredibly more durable than vinyl, aluminum, wood, and many other siding alternatives.
Customizable – We offer one of the largest selections of colors and styles, enabling you to choose the siding that best suits your home's unique appearance.
Energy efficient – We will install your new siding over a sturdy layer of insulated foam-backed boards that work to reduce thermal transfer and help maintain stable indoor temperatures.
To learn firsthand why we are the go-to siding company serving homeowners in and around Missoula, MT, contact AAmerican Seamless Siding today.