For One of the Leading Siding Companies in Butte, MT, Call AAmerican Seamless Siding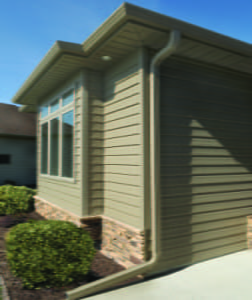 If you are ready to put an end to your search for reputable siding companies in the Butte, Montana, area, pick up the phone and give AAmerican Seamless Siding a call. Since 1978, we have provided homeowners throughout the region with top-of-the-line home improvement solutions that are built to stand the test of time, and our siding is no exception. Manufactured by ABC Seamless, one of the most prominent names in the industry, our seamless steel siding is engineered with heavy-gauge, hot-dipped, G-90 galvanized steel and is among the most durable options available.
As one of the leading siding companies in Butte, MT, we go to great lengths to ensure each home receives the perfect siding system. All of your steel siding panels will be manufactured right on-site to ensure they fit the exact dimensions of your home and are free from ugly seams and splices. Plus, your new ABC Seamless siding will also be:
Installed over a snug layer of foam-backed insulation that reduces heat transfer into and out of your home
Finished with Cool Roof technology that reflects the sun's radiant heat away from your home
Available in a variety of beautiful colors and styles
Plus, unlike many other siding companies, we firmly stand behind every product we install. Your ABC Seamless steel siding will be backed with a lifetime, non-prorated, transferable warranty – one of the best in the industry.
To learn more about what makes us one of the go-to siding companies in Butte, MT, and nearby areas, contact AAmerican Seamless Siding today.