AAmerican Seamless Siding is the Roofing Company You Can Trust for Your Home in Missoula, MT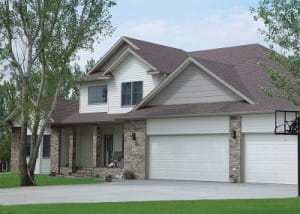 If you are looking for a trustworthy and professional roofing company serving the Missoula, Montana, area, look no further than AAmerican Seamless Siding. As a locally-owned family business that has provided homeowners throughout the region with superior roof solutions since 1978, we have earned a long-standing reputation as the go-to roofing company in the community. Our dedicated team of professionals works with you to determine your unique roofing needs to ensure that we install the ideal roof for your particular home that will boost its curb appeal and last for years to come.
As a premier roofing company in the Missoula, MT, area, we are proud to offer a number of different types of roofs. However, our ABC Seamless steel roofing solutions are among one of our most popular options and boast a number of benefits over other roofing alternatives, including:
Customizability – Our seamless steel roofs are available in a number of styles and colors, enabling you to create the look that best suits your home's exterior.
Superior durability – Manufactured from heavy-gauge, hot-dipped, G-90 galvanized steel, ABC Seamless steel roofing is significantly longer lasting and more durable when compared to other roofing alternatives.
Incredible energy efficiency – ABC Seamless steel roofs are engineered with "Cool Roof" paint technology that reflects the sun's radiant heat away from your home.
To learn more about what makes us a leading roofing company in the Missoula, MT, area, contact AAmerican Seamless Siding today.