The Top Roofer Serving the Missoula, MT, Area – AAmerican Seamless Siding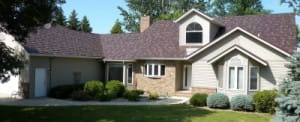 If you are searching for a roofer in Missoula, Montana, or a surrounding area, then look to the professionals at AAmerican Seamless Siding. We are a locally-owned and -operated company that has been serving homeowners in the community since 1978, and in that time we have earned a reputation for providing stellar services and products.
As your local expert roofer in Missoula, MT, AAmerican Seamless Siding can install multiple kinds of roofs. We will work with you and discuss your needs and budget, then walk you through your options so that you get the roof that works best for your home. The types of roofs we can install include:
Seamless standing seam – One of the longest-lasting roofing solutions, standing seam metal roofing is incredibly durable and is sure to enhance the curb appeal of your home
Asphalt – We use top-quality asphalt shingles to give our customers a practical roofing solution that provides protection against extreme weather and moisture infiltration
Steel shake – This strong roofing material is incredibly energy efficient thanks to "cool roof" eco-performance technology that reduces thermal transfer into the home during the summer and out of the home in the winter
Plus, when you choose us as your roofer, you can count on a quality installation job that is performed properly the first time. Each roofer on our staff is certified and thoroughly trained on our products, so your roof will be installed efficiently and correctly.
To learn more about making us your roofer, contact AAmerican Seamless Siding today. We proudly serve homeowners throughout the Missoula, MT, area.