Seamless Rain Gutters Made of Durable Steel Installed on Homes in Missoula, MT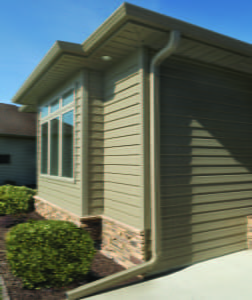 If it's time to have new rain gutters installed on your home in Missoula, Montana, there is no better company to call than AAmerican Seamless Siding. We are home improvement specialists who have been serving the area since 1978, and as a family-owned company, we understand the importance of providing personalized service and treating our customers' homes with respect. What's more, we install the finest home exterior products on the market – including our seamless steel gutter systems – and that's ABC Seamless products.
When you turn to us for rain gutters on your home in the Missoula area, we will fabricate them on site using the precise measurements of your home. This ensures that the gutters will stretch from corner to corner completely free of seams. Without seams, your gutters will:
Be less likely to develop leaks
Not separate due to contraction and expansion from temperature changes.
Have a more attractive look and more easily blend into your home.
Our rain gutters are also extremely durable, because they are fabricated from 28-gauge, hot-dipped, G90 galvanized steel, making them highly resistant to denting and creasing. We also screw-apply the gutter system, instead of using staples, making them far less likely to detach from the home even in heavy rainfall or snowmelt.
For more details on the rain gutters we have available for installation on your home in Missoula, MT, or nearby area, contact AAmerican Seamless Siding today. We are happy to discuss your options with you and show you the several elegant colors our gutters come in.