Durable Rain Gutters Installed on Homes in & Around Butte, MT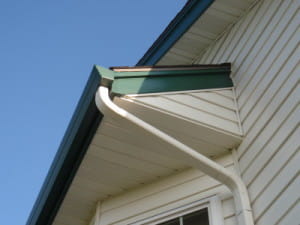 At AAmerican Seamless Siding, we don't install just any ordinary, run-of-the-mill rain gutters. We provide Butte, Montana, homes with top-notch, high-capacity gutters that are engineered from one of the most durable materials on the market: steel. Our gutter systems are sturdy, sleek, and significantly more efficient at carrying water away from your home when compared to other options available. And the best part? They are completely seamless, providing your residence with a sophisticated system that will look great for years to come.
Manufactured by industry leader ABC Seamless, our rain gutters beat out the competition when it comes to protecting your Butte, MT, home from foundation damage and flooding. That's because:
Our gutter systems are made from 28-gauge, hot-dipped, G-90 galvanized steel, and can effortlessly withstand even the worst hail storms and torrential downpours without so much as a dent.
Our gutters are screw-secured to your home to prevent detaching and sagging during even the heaviest of snowmelt.
Our gutters can carry up to 33 percent more water away from your home when compared to standard K-style gutter systems.
We finish all of our gutters with a protective coating that won't fade or peel no matter how harsh the sunlight.
What's more, our rain gutters are available in more than 30 different colors, including ivory, cinnamon, and Sherwood green. This enables you to design the gutter system that best suits your home's unique exterior appearance and that blends in seamlessly with your soffit and fascia.
For more information on the durable and attractive rain gutters we can install on homes in Butte, MT, and nearby areas, contact AAmerican Seamless Siding today.