Metal Roofing Installed for Homeowners in Missoula, MT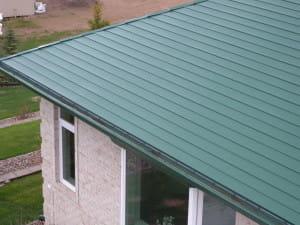 Standing seam metal roofing by AAmerican Seamless Siding can drastically improve the look and functionality of your home in Missoula, Montana. We have been a trusted roofing contractor and home improvement company in the area since 1978. Our longevity in the industry is due to our commitment to only using top-quality products and providing stellar customer service.
AAmerican Seamless Siding is proud to install metal roofing for Missoula homeowners, because roofs made of less sturdy materials have the disclaimer that they will only last for a certain number of years. So, why would you invest in a roof that's guaranteed to fail? Instead you can invest in our steel roofing that will be the last roof your home will ever need. In addition to its long lasting durability, our steel roofing is:
Attractive, and will boost the curb appeal of your home, because in addition to the streamlined look of metal roofing it will continue to look great even decades into the future
Energy efficient, because steel reflects the sun and many of our metal roofing options are made with "Cool Paint" technology that prevents thermal energy from entering  your home
Customizable, and available in a wide variety of styles and colors, so you are sure to find options that complement your home
In addition to our standing seam roofing, we also offer steel shake roofing, also known as metal slate roofing. This option gives the charming look of real wood shakes, but without the drawbacks of wood roofing, such as the tendency to rot and warp.
To learn more about having us install metal roofing on your home in Missoula, MT, contact AAmerican Seamless Siding today. We also offer financing options to qualified homeowners.