The Metal Roofing Experts in Kalispell, MT, are at AAmerican Seamless Siding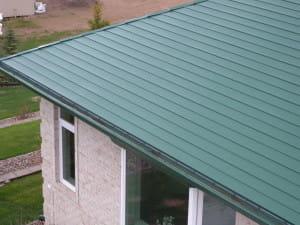 Metal roofing is an excellent investment for homeowners in Kalispell, Montana, particularly when they turn to the experienced professionals at AAmerican Seamless Siding to have it installed. Our company has been in business since the 1970s, and in that time has become a proud franchisee of ABC Seamless. This allows us to use the expertise we have gained in constructing quality roofs to install the finest metal roofing products on the market today.
Our metal roof shingles are impact, fire, damage, and wind resistant, so even in the face of gale-force winds and heavy hail storms that sometimes affect Kalispell, you can count on zero leaks entering your home. Our metal roofing products will also provide numerous other benefits for your home, including:
Attractiveness – We offer a wide variety of metal roof options, including standing seam in numerous elegant colors, and cedar shake that gives the charming look of cedar shingles, but with all the durability benefits of steel.
Energy efficiency – All of our colors are use "cool roof" technology, meaning the radiant heat from the sun bounces right off of it. This can make it easier for your HVAC system to maintain a pleasant temperature in the home, and even possibly reduce monthly energy bills.
Possible resale value – Not only are our metal roofs backed by a lifetime warranty, but this warranty is also transferable to a new owner, which can add to the home's resale value.
To learn more about the metal roofing we install on homes in the Kalispell, MT, area, contact AAmerican Seamless Siding today. We also offer financing options for qualified homeowners.