Durable Metal Roofing Installed for Homeowners in the Butte, MT, Area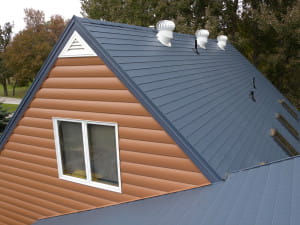 For metal roofing that is durable and attractive for your home in Butte, Montana, turn to the roofing experts at AAmerican Seamless Siding. We have been installing roofs for area homeowners since 1978, so we have decades of experience and knowledge on installing roofs of all kinds on any sized home. Let us put our expertise to work for you by performing a quality roofing job using superior products.
As experienced roofing experts, we offer several types of metal roofing to homeowners in the Butte area, including standing seam roofing which gives an attractive and streamlined look, and metal shake roofing, which maintains the traditional look of a shingled roof, but provides all the benefits of a steel roof. These benefits include:
Durability – Steel is much more robust and able to withstand hail storms and wind-blown debris without breaking down or looking worse for the wear
Energy efficiency – Steel is better at preventing solar heat gain than roofing made of other materials, such as asphalt
Longevity – Metal roofing will likely last the entire time you own your home, making it the last time you need to invest in a roofing replacement
Customizability – Our metal roofing materials are available in a wide variety of exciting colors, so you can create a look that is unique and boosts the curb appeal of your home
To learn more about the metal roofing options we have available for installation on homes in the Butte, MT, area, contact AAmerican Seamless Siding today. We are happy to answer your questions, and tell you about our financing options for qualified homeowners.