Steel Log Siding for Homes in Missoula, MT & Surrounding Areas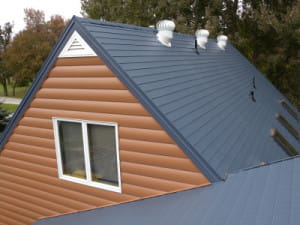 Log siding can be a beautifully rustic addition to any home in Missoula, Montana, but the required maintenance needed to keep it in tip-top shape can often leave homeowners discouraged from choosing it. Luckily, AAmerican Seamless Siding has the perfect solution that gives you the aesthetic appeal of real wood without any of the necessary upkeep requirements: seamless steel log siding.
The steel siding that we install on homes throughout the Missoula, MT, area provides the luxurious look of classic log siding with the strength to stand up to even the most detrimental weather conditions. Manufactured out of heavy-gauge, hot-dipped, G-90 galvanized steel, our siding is virtually unaffected by the outside elements that would leave other siding materials damaged and in need of repair. Plus, we will fasten your new siding system tightly and securely to your home, ensuring that it won't buckle or blow off no matter what Mother Nature throws your way.
On top of being one of the most durable products on the market, our steel log siding is also:
Resistant to fading, warping, chipping, and peeling, so you won't have to spend time painting or staining your new siding to keep it in great condition
Available in a number of beautiful colors and styles, giving you the freedom to choose the siding that will best match your home's exterior architecture
Remarkably energy efficient and will help maintain stable indoor temperatures inside your home, reduce your HVAC system's workload, and potentially decrease your monthly energy bills
For more information on the incredible seamless steel log siding we can install on your home Missoula, MT, or a nearby area, contact AAmerican Seamless Siding today.