Beautiful Steel Log Siding Installed for Homes in Kalispell, MT & Surrounding Areas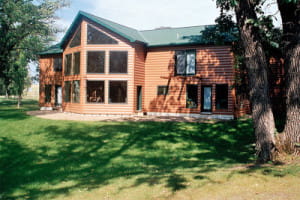 Log siding is a beautifully rustic addition to any Kalispell, Montana, home, but oftentimes the required upkeep that comes with it can keep homeowners from investing in this siding option. Luckily, AAmerican Seamless Siding provides the perfect solution: steel log siding. Our superior steel products combine the aesthetic look of traditional log with the easy-care nature of metal to offer your home a beautiful siding installation that will last a lifetime.
The steel log siding we install on homes in Kalispell, MT, is custom-cut on site to ensure your new products fit the exact dimensions of your house. As a result, you can say goodbye to all those ugly QUACKS and enjoy the benefits that come with seamless siding, such as exceptional protection against moisture infiltration, thermal heat transfer, and insect infestations.
In addition to being completely seamless, the log siding installed by AAmerican Seamless Siding is also:
Engineered with heavy-gauge, hot-dipped, G-90 galvanized steel that will never crack or break and will provide your home with a virtual shield of armor against the harmful outside elements.
Low maintenance and requires very little upkeep to remain in excellent condition for years to come. In fact, the occasional spray down with a garden hose is all that's needed to keep our siding in tip-top shape.
Available in a number of attractive colors and styles to match your home's exterior architecture and boost its curb appeal.
Incredibly energy efficient – our siding is placed snugly over a layer of insulation to help maintain stable indoor temperatures, reduce your HVAC system's workload, and potentially lower your monthly energy bills.
Plus, we are so confident in the durability and longevity of our log siding that we back all of our siding installations with an industry-leading lifetime, non-prorated, transferable warranty. After all, we're on your side ­– the seamless siding side.
For more information on the benefits our log siding can provide for your home in Kalispell, MT, or a surrounding area, contact AAmerican Seamless Siding today.