Durable House Gutters Installed by AAmerican Seamless Siding for Homes In & Around Kalispell, MT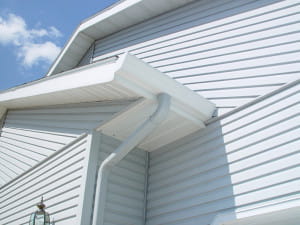 House gutters are an essential component to keeping your Kalispell, Montana, residence and landscape protected from water damage and flooding. When area homeowners are in need of a new gutter system, they know to turn to AAmerican Seamless Siding. Since 1978, we have provided homes throughout the region with superior home improvement products that are of the highest quality and are built to last for years to come. Plus, as a family-owned and -operated company, we pride ourselves on our dedication to complete customer satisfaction, so you can rest assured that your new gutters will be installed with expert precision and great attention to detail.
As a leading installer of house gutters in the Kalispell, MT, area, we are proud to offer gutter systems manufactured by one of the most trusted names in the industry: ABC Seamless. These superior products are:
Engineered from heavy-gauge, hot-dipped, G-90 galvanized steel, making them incredibly durable and able to withstand even the heaviest rainfall or snowmelt
Securely fastened to your home with sturdy hangers that prevent your gutters from buckling or sagging
Able to carry 33 percent more water away from your home when compared to traditional gutter systems
Manufactured onsite to ensure they seamlessly fit in with your soffit and fascia system
What's more, our house gutters are available in more than 30 beautiful colors, giving you the freedom to design your gutter system so that it perfectly blends in with your home's unique exterior architectural appearance.
To learn more about the house gutters we can install for homes in Kalispell, MT, and surrounding areas, contact AAmerican Seamless Siding today.