Durable Gutters Installed for Homeowners in Kalispell, MT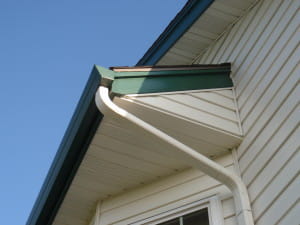 Gutters are an essential component of your home in Kalispell, Montana, because they protect your home and landscaping from water damage. That's why, if you are ready to upgrade the gutters on your house, you should turn to AAmerican Seamless Siding. We are home improvement experts who have been serving the area since the 1970s. What's more, our gutter systems are far more durable and effective than many others on the market today.
The gutters we install for Kalispell homeowners are completely free of seams, because we assemble them on-site to fit the exact specifications of the home. Without seams, our gutters are less likely to detach and develop clogs and leaks. Other benefits of our gutter systems include:
The proprietary "heavy hangers" that we use for installation that eliminate the risk of the gutter system detaching from the house, and are also hidden which adds to the streamlined, seamless look
The customization options, as our gutter systems are available in over 30 elegant colors, so you can find an option that beautifully complements the exterior of your home
The peace of mind that they come with, because you will know that your investment in a new gutter system is backed by one of the best warranties in the business
Furthermore, we can equip our gutter systems with 4" x 3" downspouts that can channel double the amount of water. And, our Gutter Stuff gutter protection system can further enhance the functionality of your gutters by preventing pesky debris build-up.
For more information on the gutters we have available for installation on your home in Kalispell, MT, contact AAmerican Seamless Siding today.