Seamless Gutters Installed on Homes in the Butte, MT, Area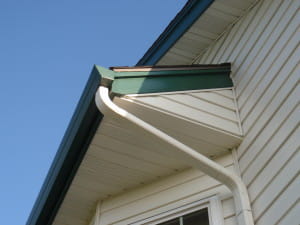 If you are in need of new gutters on your home in the Butte, Montana, area, there is no better company to turn to than AAmerican Seamless Siding. It is important to have a properly functioning gutter system on your house, in order to keep water from damaging the foundation or your landscaping. We will install gutters that not only look great and function properly, but will also continue to do so for decades to come.
What makes our gutters stand apart from similar products in the Butte area is that they are seamless. We are able to install gutter systems completely free of seams by manufacturing them on site to the exact dimensions of the home. Without seams, the gutter system is less likely to develop clogs and leaks or detach from the home. What's more, our steel gutters are:
Made of hot-dipped, 28 gauge, G90 galvanized steel, so they are extremely durable and can withstand years of storms without showing signs of damage
Screw-hung into the rafters with hidden hangers, instead of stapled on, giving them a more streamlined look and preventing them from detaching from the home even under heavy snowmelt
Customizable and available in over 30 different beautiful colors, so it is easy to find options that complement the current exterior of your home, or you can have an exact color match to any of our seamless steel siding colors
We also offer the Gutter Stuff gutter protection system that can prevent debris buildup and eliminate the tedious chore of having to clean out your gutters.
To learn more about having us install our seamless steel gutters on your home in the Butte, MT, area, contact AAmerican Seamless Siding today.