Seamless Gutter Installation for Homeowners in Kalispell, MT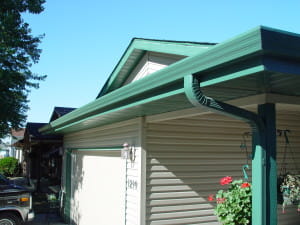 For a gutter installation on your home in Kalispell, Montana, that is performed by experts using some of the best products available on the market today, turn your attention to AAmerican Seamless Siding. We are a family-owned and -operated company that understands what it takes to provide superb customer service to the members of our community. Plus, we install ABC Seamless steel gutters, which is one of the most sought after types of gutters by homeowners today.
We are able to perform a gutter installation on your Kalispell-area home that is completely free of seams, because we will manufacture the gutters on-site so that they fit perfectly. The absence of seams means your gutters are less likely to detach or develop clogs and leaks. You will also benefit from a gutter installation by AAmerican Seamless Siding on your home because our gutters are:
Made of hot dipped, 28 gauge, G90 galvanized steel, making them extremely durable
Screw-hanged into the rafters, which not only looks nicer because the hangers are not visible, but it is also more secure than staples, so your gutters won't detach even under heavy rainfall or snowmelt
Customizable and available in numerous different colors, so there are sure to be options that beautifully complement the current exterior of your home; our gutters can also exactly match our seamless siding colors, for a cohesive look
Backed by an unbeatable lifetime non-prorated transferable warranty
To learn more about hiring us to complete a gutter installation on your home in the Kalispell, MT, area, contact AAmerican Seamless Siding today.