Durable and Attractive Exterior Siding for Homes in Kalispell, MT & Surrounding Areas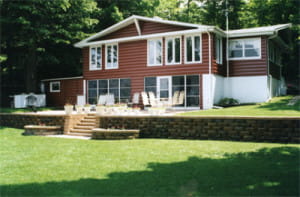 If you are looking to install long-lasting and durable exterior siding on your home in Kalispell, Montana, turn to the professionals at AAmerican Seamless Siding. Since 1978, we have provided homeowners all over the area with superior seamless steel siding that is built to last a lifetime. Manufactured by industry-leader ABC Seamless, our completely seamless siding products are among some of the most elite solutions on the market and will protect your home from water intrusion, insect infestation, wind, and all other harmful outside elements.
In addition to being seamless, the exterior siding we can install on your home in Kalispell, MT, offers a host of additional benefits when compared to other siding alternatives, including:
Superior energy efficiency – Installed over a sturdy layer of insulated foam-backed boards, our siding can improve your home's energy efficiency by reducing thermal heat transfer and helping to keep your home's indoor temperatures stable all year long.
Exceptional durability – Engineered with heavy-gauge, hot-dipped, G-90 galvanized steel, our siding is significantly stronger than vinyl, wood, fiberboard, cement, and nearly any other siding alternative on the market.
Highly customizable – We offer an enormous range of styles and colors, enabling you to choose the exterior siding that best complements your home's unique look.
In addition to these incredible benefits, we also back all of our products with an industry-best lifetime transferable warranty to ensure your investment is protected for years to come.
For more information on the superior exterior siding we install on homes in Kalispell, MT, and surrounding areas, contact AAmerican Seamless Siding today.